I love planning showers or birthday parties. I could do it everyday! One of my best friends is getting married in October and a few weekends ago the four of us bridesmaids threw her a shower! Here are a few DIY details we put together.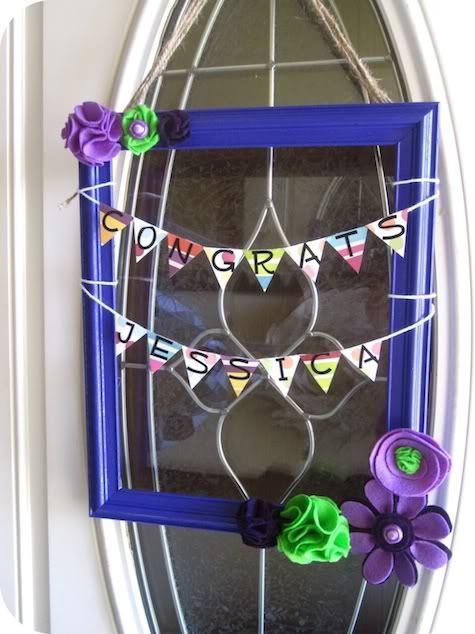 This welcome sign was made with a frame from the thrift store I sprayed purple. The triangles are scrapbook paper and I used my handy
silhouette
machine for the letters, then just glued the triangles onto yarn to tie across. The flowers are made of felt. I think the total for this sign was under $5! Oh yeah! I love how it turned out!
We hung up old pictures of the bride and groom and had everyone guess their ages. It was fun seeing their cute baby pictures!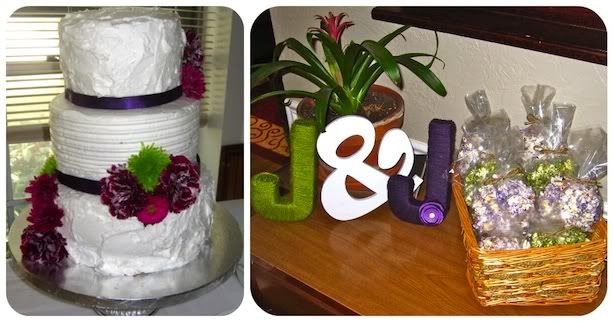 The Maid of Honor, Alli, and I made the cake. This was actually one of the simplest cakes I have made. We just textured regular butter cream icing with a spatula and another cake tool that made the lines. It took lots of icing! But, if we didn't like how it looked we could smooth it out and start over. With the fresh flowers, so pretty!
I got a couple of cardboard J's from the unfinished wood section at Hobby Lobby and wrapped them in yarn. LOVE! :) I love the warm and cozy feeling yarn gives off. Then there is the purple and green kettle corn party favors. My girl Jennie did these and they were so good! She and Katy did all the food which was awesome as well.
These pinwheels were one of the delicious things they made, the mix of the salty kalamata and the sweet tomato was an explosion of flavor! I may have had more than a few.
a lot more ;)
1 container (8oz) garlic and herb whipped cream cheese
1 container (4oz) crumbled feta cheese
1/3 cup finely chopped cucumber
6 flour tortillas for burritos, 8 inch
1/3 cup pitted kalamata olives, coarsely chopped
3 small (Roma) tomatoes, chopped (about 1 1/2 cup)
3 cups baby spinach leaves
Directions:
In a small bowl, beat cream cheese and feta cheese with electric mixer on medium speed until smooth. Stir in Cucumber.
Place tortillas on microwavable plate or paper towel; microwave uncovered on high 10 - 15 seconds to soften. Spread about 1/4 cup cheese mixture on each tortilla. Top evenly with olives and tomatoes. Arrange 1/2 cup spinach on each tortilla to within 1/2 inch of edge. Roll up tightly wrap in plastic wrap. Refrigerate 2-3 hours to blend flavors.
Trim ends of rolled tortillas if desired. Cut each roll into 8 1 inch slices. Arrange with cut side down on serving dish.
Each pinwheel = 45 calories
Katy, Jennie, Bride to Be Jessica, Me, Alli
I am lucky to have such creative friends to do these showers with!
It doesn't take much to put a little extra love into the details, it certainly makes things more special :)